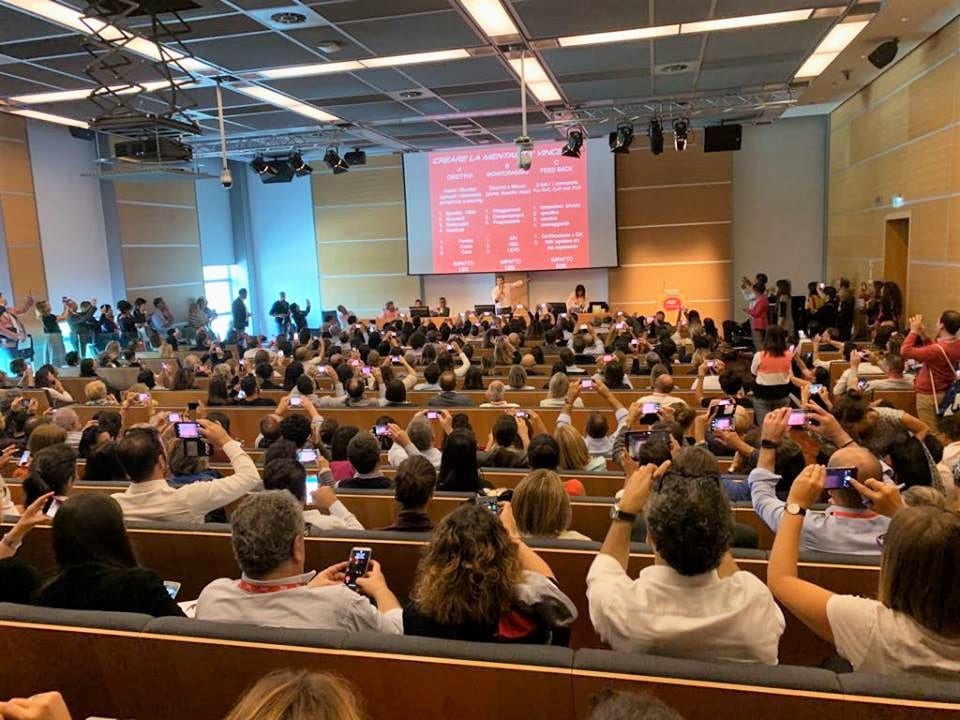 The wait is coming to an end: Hospitality Day arrives on 8 October!
5000 participants including hoteliers, architects, journalists, interior designers and industry professionals are expected to attend more than 130 seminars, meet more than 160 partner companies in an impressive 6,000 square metre marketplace and much more. The sixth edition of Hospitality Day organised by Teamwork will be truly engaging, with a rich programme that lives up to the highest expectations!
Brand new this year are the special seminars of the Masterclassa room where 7 paid speeches with real international hotellerie celebritieswho will only share their experience with the lucky Masterclass audience.
Big names such as Laura Ries marketing and corporate positioning legend and author, together with his father, the great Al Ries, of numerous best sellers on marketing and communication, Jeroen Van Der Schenk, Head of Global Performance Academy at Performance Solutions, Cathy A. Enz director of one of the most important universities in the hotel industry, Cornell University, Michil Costa Ladin hotelier and environmentalist, director of Hotel La Perla and Berghotel Ladinia in Corvara and Albergo Posta Marcucci in Bagno Vignoni, Cindy Heo Revenue Management expert and lecturer at one of the world's best hotel management universities, the Ecole Hôteliere de Lausanne, Armando Travaglini founder of Digital Tourism Marketing and Edoardo Cognonato consultant, empathy coach and personal leadership expert.
Many speakers have already been confirmed, including CEOs, managers and founders of groups such as Marriott, Mandarin Hotel Group, Planetaria Hotels, Park Hyatt, IHG Intercontinental Hotels Group, Meliá Hotels International, Best Western Hotels & Resorts and Steel Hotels.
The full programme of the speeches includes important personalities such as: David Kepron Vice President - Global Design Strategies at Marriott International, Marco Olivieri General Manager of Excelsior Hotel Gallia, Teresa Sapey Founder & CEO of Studio Teresa Sapey, Chris Penn Co-founder of Steel Hotels and Vito Spalluto General Manager of L'Andana - Tenuta La Badiola.
And again Raffaele Gaito Growth hacker, author and blogger, Massimiliano Sechi eSports World Champion, NPL Coach, MindMapping World Champion, Matteo Sarzana General Manager Italy of Deliveroo and author of "App Economy", Luisa Carrada famous Copywriter, editor and teacher of professional writing, Andrea Grassi Partner of GLA Genius Loci Architecture, Davide Bertozzi Copywriter and creative director, Riccardo Pirrone CEO and Digital Strategist of KiRweb, Juanjo Rodriguez Founder of The Hotels Network, Gianluca Laterza Country Manager of TripAdvisor, Damiano de Crescenzo Managing Director Planetaria Hotels and Ralph A. Riffeser CEO and General Manager of Cavallino Bianco Family Spa Grand Hotel.
Hospitality Day will be much more than just a training day: in addition to the seminar programme, appointments such as the Food Marketing Festival, a space where all the players in the catering sector organised in collaboration with Pienissimo will be brought together; the area dedicated to recruiting professionals in the hotel and tourism sector organised by Job in Tourism; the Family Area dedicated to the family hotel market with talks and companies in the sector will contribute to the success of the sixth edition; the exclusive Teamwork Lounge, the area where you can find Teamwork, the company organising Hospitality Day, with seminars by consultants and trainers, also available for meetings and consultations; the Breakfast area, the space dedicated to breakfast in the hotel, with seminars organised by Gaetano Barbuto and the possibility of meeting breakfast companies present with products, equipment and novelties for the hotel industry; and finally the lounge of the web radio dedicated to the world of hospitality Media Hotel Radio, with live interviews with the day's protagonists.