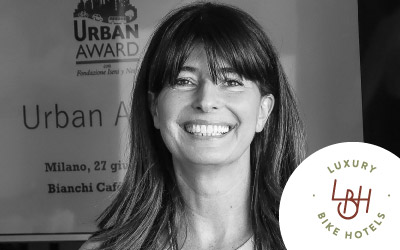 Ludovica Casellati
Founder, Luxurybikehotels.com
Biography
The passion for cycle tourism is the basis of his nickname on the web, Ladybici. Ludovica Casellati has become, in fact, starting from 2013 a point of reference for the world on two wheels: every Saturday morning, at 9.45 am, Radio Montecarlo broadcasts its column "Italy in Bicycle", within the program "
La Bella Italia
", and writes about cycle tourism for
TgCom24
. After a long career in communication and media within important realities such as the Mediaset Group and Publitalia '80, she abandons that path to devote herself entirely to writing, telling about her love for cycling and travel. Enrolled in the Register of Publicist Journalists since 2004, in 2013 Ludovica Casellati gives life to
Viagginbici. com
the magazine of sustainable tourism of which he is also Managing Director. In 2015 you created the Italian Oscar for cycle tourism (Italian Green Road Award) and in 2017 the Urban Award, in collaboration with Anci with the aim of promoting sustainable mobility. Linked to his passion for cycling is the collection
Luxurybikehotels.com
, a project created to provide information to all cyclists looking for luxury hotels that can satisfy their requests. Since September 2018 Ludovica Casellati has been the editor of an important magazine dedicated to tourism and food and wine, Viaggi del Gusto (
vdgmagazine.it
). Within this context, he collected all his experience in the sector and in 2019 he published his first book, "La Bici della Felicità", an ABC aimed at providing the slow cyclist with a series of useful tips to approach the bike, make the choice of the right model and involve family and friends on a bike ride. A real compendium of cyclosophy and bicitherapy. Born in Bolzanina, Ludovica Casellati lives in Padua and was trained in the classical field, earning a degree in law with a thesis on urban planning law.
All sessions by Ludovica Casellati