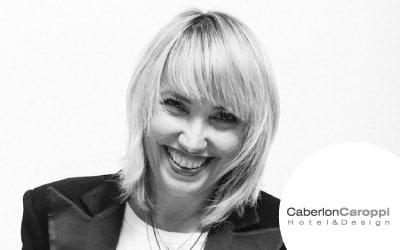 Chiara Caberlon
Architect and founder, CaberlonCaroppi
Biography
Chiara Caberlon graduated in architecture from the Milan Polytechnic. From 1997 to 2001 you worked as an interior designer for many fashion companies and international banks.
In 2004, the associated firm CaberlonCaroppi Italian Touch Architects was born with the aim of uniting and sharing the different experiences gained to develop new hospitality concepts.
The firm carries out consultancy activities for hotel management companies, service companies for real estate tourism development and private clients. He also deals with the design for prestigious international brands: Intercontinental (Holiday Inn, Crowne Plaza, Indigo), Hilton (Double Tree, Garden Inn), Starwood (Four Points), Carlson Reizton Hotels Group (Radisson Blu), Marriott (Courtyard by Marriott ), Ora Hotel, NH, Italiana Hotels, The Ritz-Carlton, Chik Chik Hotels. From the design of hotels, many design products were born, now in the catalog of some prestigious Italian brands.
In 2006 they participated in the BDCI event "Brands & Designers China Initiative" in China, a series of conferences on Italian design organized by the city of Shenzen, and in 2009 they participated in the CDIF conference "China International Design & Art Fair" during the fair of Beijing architecture. In 2010 together with Teamwork and Hospitality Project they inaugurated Hotel Innovation Lab, a traveling workshop for hoteliers in the main Italian locations. In 2010 and 2012 the studio was invited as an "ambassador of Italian Design" to Equip hotel in Paris, with the Room 2.0 and Room under the moon - Naturally Resort projects. In 2015 they took part in the Feira Internacional de Luanda, Africa, and in the Hotel Show in Dubai with the Daydream project.
Since 2007, the architects have been teaching the Hotel Interior Design course at the Poliarte in Ancona and hold various lectures and courses at Domus Academy, Milan Polytechnic, IED and Tsinghua University in Beijing.
Since 2013 they have opened several international construction sites in Russia, Africa, Kazakhstan and Armenia, including a Hilton Double Tree in Yerevan, inaugurated in April 2015, and the Chimuco Wellness Center in Angola.
The projects have been published in numerous trade magazines and books. The studio celebrates in 2015 the milestone of 100 projects in 10 years.