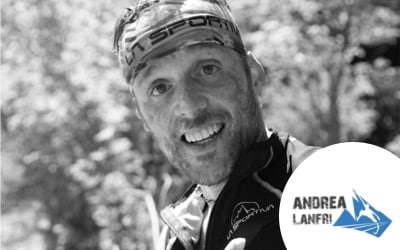 Andrea Lanfri
Paralympic athlete and mountaineer
Biography
He is a Paralympic athlete for the Italian national athletics team and a mountaineer. At the age of 29, in 2015, he contracted meningitis with meningococcal sepsis, causing him to lose both legs and seven fingers. Prior to this year, he was a big mountain enthusiast, enjoying everything from trekking to climbing and mountaineering. While in hospital, he was strongly convinced that one day he would return to doing the same things as before. After waking up from the coma, and following the amputations, a great desire to run remained within him.
His sporting career and his new life as an athlete began thanks to a fundraising campaign, which enabled him to train and join the Italian Paralympic national athletics team, winning records, European medals and a world silver medal in London, as well as many other achievements: he ran with a pair of carbon-fibre prostheses and became the first Italian male athlete in history to run with double leg amputation under 12 seconds in the 100-metre dash. 
In 2017, he also returned to free climbing, thanks to sponsors who made him prostheses suitable for the purpose, and climbed numerous peaks in Corsica, Italy, Ecuador and Nepal.
In 2018, his first autobiography was published: I want to run faster than meningitis.
When training for a new challenge, he always shares his experience to motivate people to overcome life's difficulties, no matter how big or small, to show that limits are not always real. He participates as a testimonial in cultural projects in schools, at trade fairs, conferences and sporting events, and it makes him happy to know that one of his interventions has helped someone who just needed to see that anything is possible.