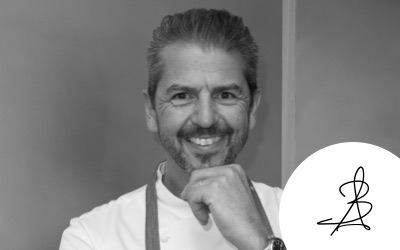 Andrea Berton
Chef e founder, Ristorante Berton Milano
Biography
He began his cooking adventure in Milan in the brigade of Gualtiero Marchesi. His training continues in the best restaurants in the world: from Mximan's in London, to Enoteca Pinchiorri in Florence and to Louis XV in Montecarlo under the guidance of Alain Ducasse.
From 1997 to 2001 he was Chef at the Taverna di Colloredo in Monte Albano, where he earned his first Michelin star. After this important conquest he returns to Marchesi as Executive Chef of the group. In 2005 he began his collaboration with the Trussardi alla Scala Restaurant where he obtained numerous awards, including the first Michelin star in 2008 and the second in 2009, three Forchette by Gambero Rosso in 2010 and three Cappelli in the Espresso guide in 2011. In 2012 decides to devote himself to consultancy in the positioning, design and development of quality catering projects. With a group of partners in 2012 he opened Pisacco Restaurant and Bar and in 2013 DRY Milano Cocktail & Pizza.
The return to his cuisine takes place with the opening of the Berton Restaurant where the Chef presents modern dishes with an enhancement of the basic ingredients and the inclusion of some little-known ingredients. Inaugurated in 2013, the restaurant that bears the name of the Chef is characterized by a cuisine where the flavors are always recognizable on the palate. In 2014, less than a year after the opening of his restaurant, Berton obtained a Michelin star.
In 2015 Berton was appointed EXPO Ambassador and in 2016 he obtained 18 out of 20 points from the Espresso Guide and three Forchette from Gambero Rosso. In 2016, the Chef also obtained three Hats in the Espresso Guide to Italian Restaurants, in addition to the Riso Scotti "Risotto of the Year" award.
A collaboration begins with Il Sereno, a luxury resort on Lake Como, where he opens his Berton Al Lago restaurant.
In 2017, together with the group of partners with whom he had opened the successful DRY Milano Cocktail & Pizza format, the Chef inaugurated the Nuovo DRY Milano.