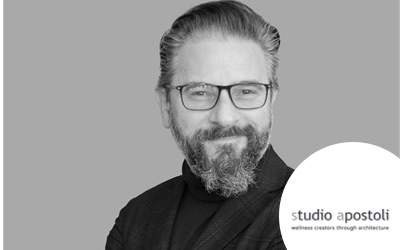 Alberto Apostoli
Architect and SPA Designer, Studio Apostoli
Biography
He is considered one of the most important architects and designers in the wellness field at an international level.
He has developed important experiences in the design of hotels, shops, offices, residences, products, multifunctional buildings, urban planning.
Graduated in architecture, in 1997 he opened his own studio, characterized by a multifaceted and multidisciplinary professional vocation, a natural consequence of his personal career.
In 2006 he presented his first personal exhibition at the headquarters of the European Parliament in Brussels entitled "Contaminated Architecture between Communication and Design", enjoying enormous success and great visibility.
Nello stesso anno apre uno studio a Guangzhou (Cina) lavorando per aziende cinesi e italiane e nel 2007 un ufficio di rappresentanza a Casablanca.
In 2010, through Studio Apostoli & Associati, it broadens its skills by offering integrated design and Project Management services.
In 2012, through Apostoli Engineering, it integrates and develops the Engineering component to its business.
In 2012 he published the book "Architecture of the SPA", which over the years has become an important reference in the sector.
From 2014 to 2015 he was President and CEO of the KOGIT Business Network, which operates in the field of Design & Build in Italy and abroad and involves over 30 major companies.
In 2016 he created Apostoli Design, whose focus is product design and related communication.
For over 15 years he has been carrying out educational and training activities through conferences, courses and workshops in Italy and abroad, mainly in the wellness sector.
In over 25 years of professional life, he has followed over 1000 projects.