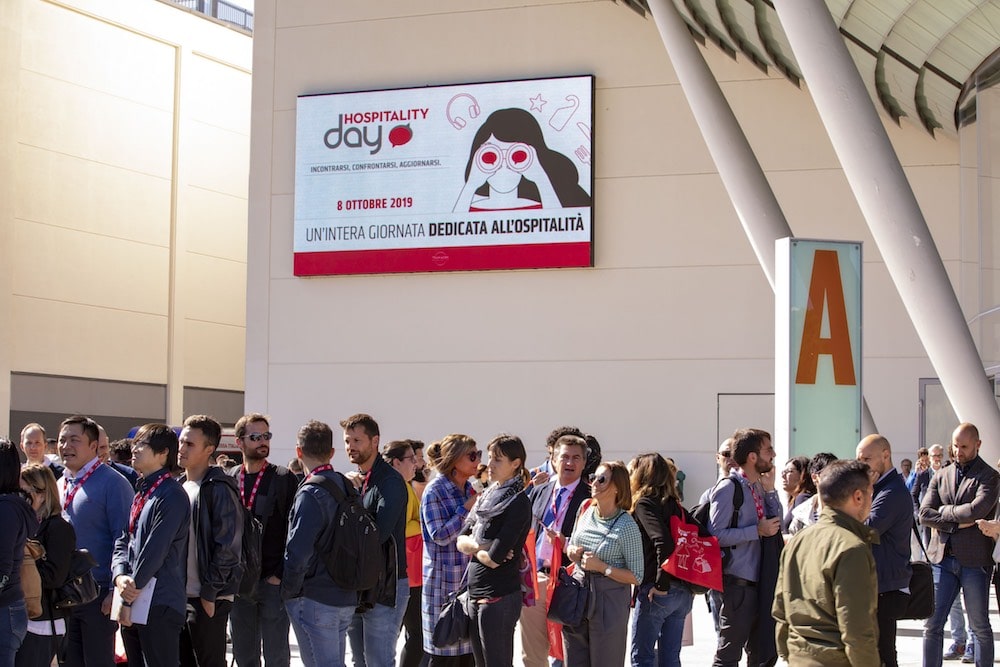 Over 6000 subscribers: we passed the record of the last edition, Hospitality Day 2019, the event organized by Teamwork, reconfirms itself as an unmissable appointment for the world of hospitality
A memorable sixth edition for Hospitality Day, in terms of numbers and participation, with the presence of international gurus and the most important companies in the sector.
A special day to tell and share.
More than 6000 members attracted by the rich Hospitality Day programme that took place on 8 October at the Palacongressi di Rimini. A absolute record which reconfirmed the uniqueness of Hospitality Day as the most important day dedicated to hospitality. The event that every hotelier should experience to find new ideas, get updated and meet the best companies in the sector.
On 8 October at the Palacongressi di Rimini, experience and sharing transported the many participants through an unprecedented programme: more than 160 seminars of national and international speakers in 20 training rooms.
The big news: Masterclass seminars.
Great success for the special Masterclass seminarsthe room where international hotellerie celebrities shared their experience and enriched the day's programme. Big names such as Laura Ries, a legend in marketing, company positioning and author together with her father, the great Al Ries, of numerous best sellers on marketing and communication, Jeroen Van Der Schenk Head of Global Performance Academy Amsterdam Performance Solutions, Cathy A. Enz director of one of the most important universities in the hotel industry, the Cornell University, Michil Costa Ladin hotelier and environmentalist, director of Hotel La Perla and Albergo Posta Marcucci in Bagno Vignoni, Cindy Heo Revenue Management expert and lecturer at one of the world's best hotel management universities, theEcole Hôteliere de Lausanne, Armando Travaglini founder of Digital Tourism Marketing and Edoardo Cognonato consultant, empathy coach and personal leadership expert.