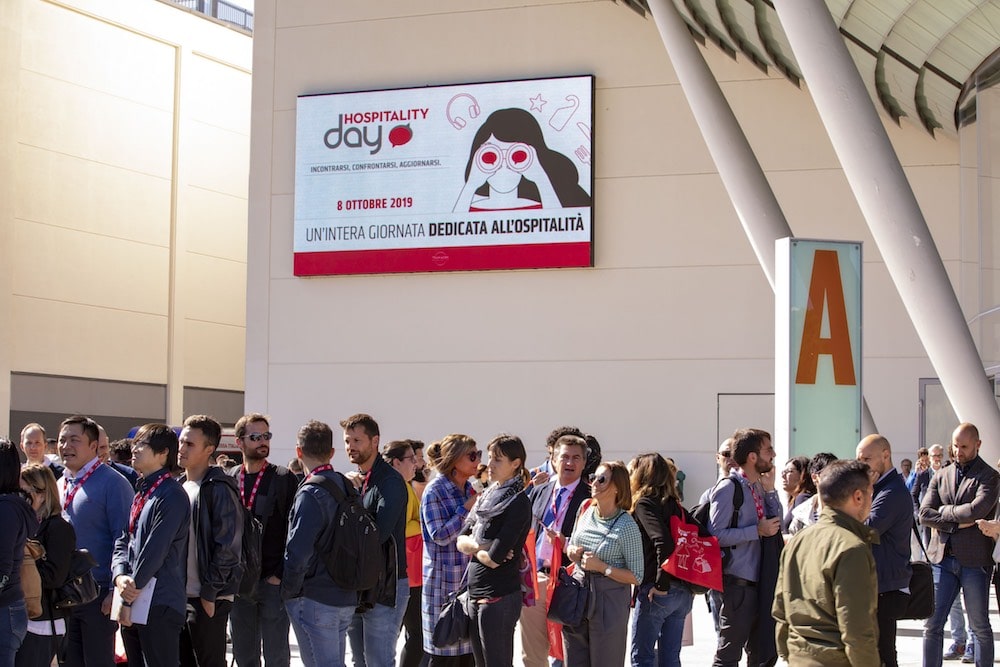 Over 6000 subscribers: we passed the record of the last edition, Hospitality Day 2019, the event organized by Teamwork, reconfirms itself as an unmissable appointment for the world of hospitality
Una sesta edizione memorabile per Hospitality Day, in termini di numeri e di partecipazione, con presenza di guru internazionali e delle più importanti aziende del settore.
Una giornata speciale da raccontare e da condividere.
Più di 6000 iscritti attirati dal ricco programma di Hospitality Day che ha preso vita l'8 ottobre al Palacongressi di Rimini. Un record assoluto che ha riconfermato l'unicità di Hospitality Day come la più importante giornata dedicata all'ospitalità. L'evento che ogni albergatore dovrebbe vivere per trovare nuove idee, aggiornarsi e incontrare le migliori aziende del settore.
L'8 ottobre al Palacongressi di Rimini l'esperienza e la condivisione hanno trasportato i tantissimi partecipanti in un programma senza precedenti: più di 160 seminari di relatori nazionali e internazionali in 20 sale formative.
La grande novità: i seminari della Masterclass.
Grande successo per i seminari speciali della Masterclass, la sala dove celebrità dell'hotellerie internazionale hanno condiviso la loro esperienza e arricchito il palinsesto della giornata. Grandi nomi come Laura Ries leggenda del marketing, del posizionamento delle aziende e autrice insieme a suo padre, il grande Al Ries, di numerosi best sellers sul marketing e la comunicazione, Jeroen Van Der Schenk Head of Global Performance Academy Amsterdam Performance Solutions, Cathy A. Enz direttrice di una delle più importanti università in ambito alberghiero, la Cornell University, Michil Costa albergatore ed ambientalista ladino, direttore dell'Hotel La Perla e dell'Albergo Posta Marcucci a Bagno Vignoni, Cindy Heo esperta di Revenue Management e docente presso una delle migliori università al mondo di Management alberghiero, l'Ecole Hôteliere de Lausanne, Armando Travaglini fondatore di Digital Marketing Turistico e Edoardo Cognonato consulente, allenatore di empatia ed esperto di leadership personale.