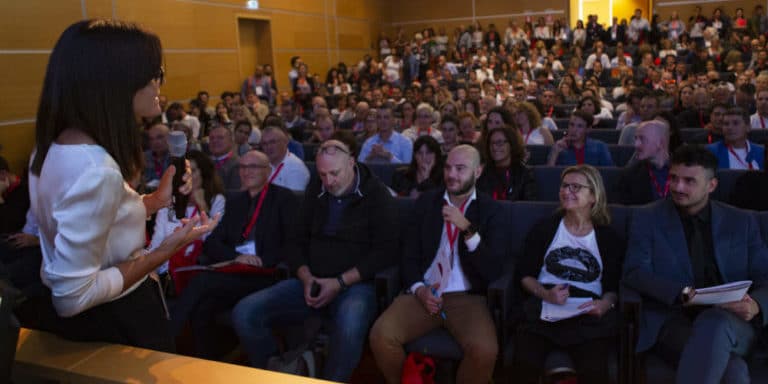 GREAT NAMES AT HOSPITALITY DAY!
From internationally renowned architects such as Teresa Sapey, CEOs of the most important hotel groups such as David Kepron from Marriott International, famous copywriters like Luisa Carrada to managers of industry leaders such as Gianluca Laterza from TripAdvisor: these are just some of the big names of the speaker that you can listen to and learn about at Hospitality Day.
Unique personalities who will share with the public the secrets of the trade, the strategies and the innovations of the constantly evolving hotel world.
Don't miss the chance to meet them.
Here are some of the speakers currently confirmed: Marco Olivieri General Manager of Excelsior Hotel Gallia, Teresa Sapey Founder & CEO Teresa Teresa Sapey, Chris Penn Co-founder of Steel Hotels and Vito Spalluto General Manager of L'Andana - Tenuta La Badiola.
And again Raffaele Gaito Growth hacker, author and blogger, Massimiliano Sechi eSports World Champion, NPL Coach, MindMapping World Champion, Matteo Sarzana General Manager Italy of Deliveroo and author of "App Economy", Luisa Carrada famous Copywriter, editor and teacher of professional writing, Andrea Grassi Partner of GLA Genius Loci Architecture, Paolo Volpato Chief Architect of Matteo Thun & Partners, Davide Bertozzi Copywriter and creative director, Riccardo Pirrone CEO and Digital Strategist of KiRweb - Taffo, Licinio Garavaglia General Manager Palais de Chine Hotel Taipei, Juanjo Rodriguez Founder of The Hotels Network, Alberto Melgrati Halldis Managing Director, Gianluca Laterza Country Manager of TripAdvisor, Damiano de Crescenzo Managing Director Planetaria Hotels and Ralph A. Riffeser CEO and General Manager of Cavallino Bianco Family Spa Grand Hotel.
More are added every week!
You can learn something from each of them, come and listen to them at Hospitality Day!
We are waiting for you on October 8th at the Palacongressi di Rimini.
REGISTER NOW